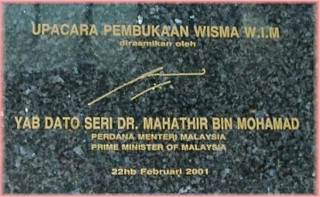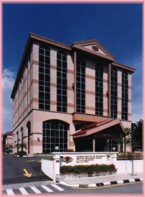 Plaque signed by then Prime Minister, YABhg. Tun Dr. Mahathir Mohamad, when he officially opened Wisma WIM in February 2001
WIM owns its own 6-storey Building at 7 Jalan Abang Haji Openg, Taman Tun Dr Ismail, 60000 Kuala Lumpur, Malaysia. This Building houses:
Administration Block
In-house Cafeteria
Tan Sri Dato Napsiah Omar Women's Hall of Fame
Computer Lab
Library
Atrium and Exhibition Area
Tun Dr Siti Hasmah VIP Lounge
Seminar Rooms
Auditorium
Conference Room
Accommodation Block.