For a brief overview, do check out our Glimpses of WIM page.
The Women's Institute of Management (264164-k), which was incorporated on 14.5.1993,  is a Non Profit NGO with tax exempt status.  WIM does not receive any annual government grant.  All members of the WIM Board are volunteers.  Up till 31.3.2018  WIM had delivered 726 courses /events, benefitting  33,294  participants, a majority of which are free training courses in Small Businesses and Basic ICT for disadvantaged women's groups such as Single Parent Women, Rural Women, Orang Asli (Aboriginal) Women and Women in the Prisons, Rumah Seri Puteri, Malaysian Indian Women in the Rubber and Oil Palm Plantations and Malaysian Chinese Women in the J.E. virus-affected areas. WIM has initiated two new undertakings, i.e. the setting up of a WIM Talent Fund and a WIM Millennials Support Group. The first recipient of the Fund is a 9-year-old Std. 3 boy, whom WIM is sponsoring an art class because of the boy's talent in sketching and tuition in English. The Millennials Support Group will be organising regular skills training for the Millennials, including Art of Speech making, Online Business Practice, etc.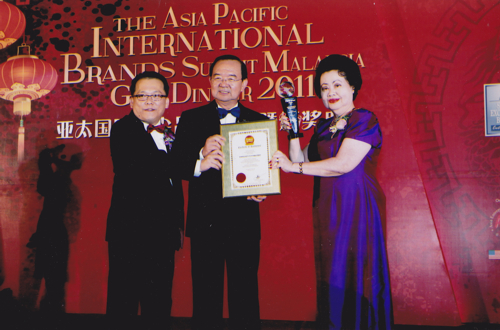 WIM was also accredited with the Malaysia Power Brand 2011 Award for Education category in respect of Brand Development and Management
WIM was adjudged Winner of European Union-Malaysia Chamber of Trade & Commerce Sustainability Award 2012 in the Empowerment of Women Category. Picture Shows WIM's CEO, Dato Dr. Nellie Tan-Wong, holding the Certificate of Award
WIM CEO, receiving the Brandlaureatte Icon Leadership Award 2011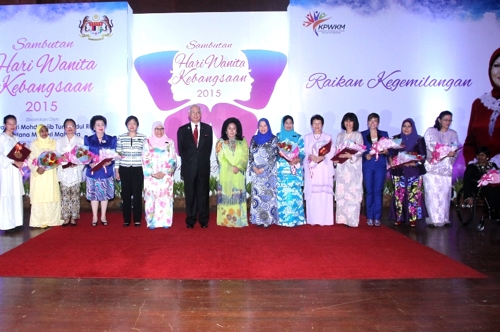 Ybhg. Dato. Dr. Nellie SL Tan Wong was appointed by the RT Hon'ble Prime Minister of Malaysia Dato' Sri Mohd Najib Bin Tun Abdul Razak on 24th August 2015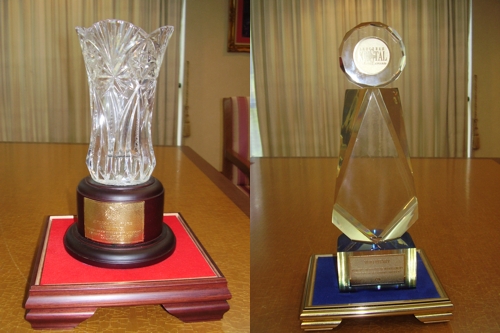 WIM awarded two Public Relations Awards by The Institute of Public Relations, Malaysia
National Outstanding Educator Award 2015 College Category To WIM's Chairperson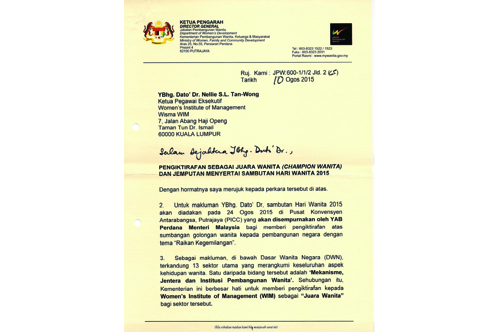 Women's Champion - Recognition by the Ministry of Women, Family and Community Development in conjunction with Women's Day 2015
WIM's Education and Management Programmes include a Master of Business Administration degree with the University of East London.  Professors from the Harvard Business School, Henley Management School, UK, the Wharton School (University of Pennsylvannia) and the Carnegie Mellon University conducted lectures pro bono to speak to our MBA students or help raise funds for WIM.  WIM's publication initiatives include a WIM business journal, INSPIRE, a WIM Finance Handbook for the Entrepreneur, Professional and Social Worker, a book on Real Estate Investment Trust (REIT),  a book on Reproductive Health "From the Womb to the Golden Years" and "Small and Medium Business: The IPO Debut", "Small Business Success Stories" and "Fundraising: Passion & Professionalism". Two unique Leadership Programmes organized by WIM are the Prime Minister -WIM Lecture Series and the Tun Dr. Siti Hasmah WIM Inspirational Woman of the Year Award. Inhouse groups of WIM include the WIM Business Network (WBN), the WIM Support Group for Recurring Pregnancy Loss and WIM-UEL MBA Alumni. Membership of  WIM's  Business Network comprises categories of Corporate Members, Life Members (Male & Female) and Ordinary Members (Male & Female) for Klang Valley, Outstation and Overseas.
WIM is an HRDF Approved Training Provider for the Corporate Sector. WIM has also been awarded projects from the United Nations Population Fund in respect of organising UNFPA  workshops and leadership programmes related to women's health issues, entrepreneurship,  empowerment of women in violence and women afflicted with HIV AIDs (1997, 1998, 2000, 2007-2012 and 2013-2017). This UNFPA Project is in the midst of extension in 2018 and the training programmes' participants will be extended to the Disabled and Parent-Teacher Associations. WIM was the first Malaysian women's organisation to appear in the Internet, by sponsorship of Telekom Malaysia Bhd.  Today, WIM's website attracts as many as  100, 519 "hits" per month from 157 countries. WIM won two Public Relations awards from the Institute of Public Relations, Malaysia.  WIM has been accredited with the Malaysia Power Brand 2011 for Education category in respect of Brand Development and Management on 9.1.2012.  On 19.9.2012, WIM was also awarded Winner of the European Union – Malaysia Chamber of Trade and Commerce Sustainability Award 2012 in the Empowerment of Women category.  WIM's CEO was also awarded the BrandLaureate Brand Icon Leadership Award 2011 for her role in WIM on 9.11.2011.   On 17.5.2015, Tan Sri Napsiah Omar, as Chief Executive of WIM College was awarded the National Outstanding Educator Award (College category) by Koperasi Pendidikan Swasta Malaysia Berhad.   The Women's Ministry has recognised WIM as a Juara Wanita (Women's Champion) and WIM's CEO  Dato Dr. Nellie Tan-Wong has been appointed to the newly formed Women's Advisory and Consultative Council by YAB the Prime Minister on 24.8.2015.  WIM's sole two Eminent Members are YABhg. Tun Dr. Mahathir bin Mohamad and YABhg Dato Seri Abdullah Ahmad Badawi, the 4th and 5th Prime Ministers of Malaysia.
Click here to download our Development Tree (shown below) in PDF format.
Women's Institute of Management:
Website: www.wimnet.org.my
Telephone: 03-77250268 /77250288 / 77299909/77273918 (Admin, WIM College, Property & Maintenance)
Fax: 03-77250286 / 77274318
E-mail: admin@wimnet.org.my       
Facebook:  www.facebook.com/WomensInstituteOfManagement
WIM College:
Website: www.wimcollege.edu.my
E-mail: WIMCollege@wimnet.org.my
Blogsite : http://mba-malaysia.blogspot.com
Facebook: www.facebook.com/wim.uel.mba