Dec. 19, 2014 – Tun Dr Siti Hasmah VIP Lounge Official Opening
Location: Wisma WIM
WIM HONOURS A GREAT LADY
by  Dato Dr. Nellie Tan-Wong, CEO, Women's Institute of Management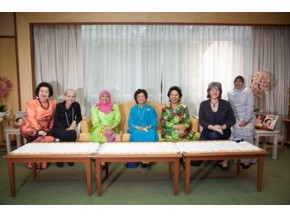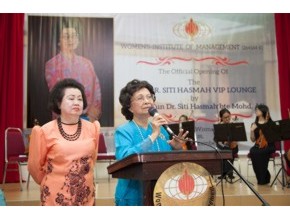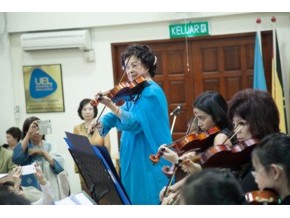 She graduated as a medical doctor at a time when it was not common for a young Malay  woman to choose the medical profession as her career.  She was fated to marry Tun Dr. Mahathir Mohamad, Malaysia's dynamic fourth Prime Minister, who brought about a lot  of development to Malaysia and introduced the "Look East" policy.  She joined the government service and became the second woman medical officer in the state of Kedah, when she frequently rode on motorbikes to get into the interior to take care of pregnant women in the rural areas. This is Tun Dr. Siti Hasmah bte Mohd Ali, an extraordinary woman who lived through an extraordinary experience. In 1979 she decided to stop working to concentrate fully on her role as mother to her children and as wife of the Minister of Education who was later elevated to Deputy Prime Minister and Prime Minister of Malaysia respectively.  Today, four of her seven children have made a mark in their lives.  Datin Paduka  Marina Mahathir is a highly respected social activist.  Mirzan Mahathir and Tan Sri Mokhzani Mahathir are wellknown  and very successful corporate leaders and Dato' Mukhriz Mahathir is none less than the Menteri Besar of the state of Kedah. She was responsible for putting Malaysia and Malaysian women into the international spotlight.  She met  and held discussions with Nancy Reagan, wife of US President, Ronald Reagan, Rosalyn Carter, wife of another US President, Jimmy Carter, Queen Fabiola of Belgium, Queen Noor Hussain of  Jordan, UK's Queen Elizabeth II and Cherie Blair wife of the British Prime Minister, Tony Blair.
Tun Dr. Siti Hasmah is gifted in music and she plays the piano and the violin.  It is a wonder she found time to research and write several articles on family medicine and the socio-economic factors associated with pregnancy and childbearing in Malaysia.  Some of her research and writings have been turned into a 2-volume book entitled "Women, Customs and Health" published by the Dewan Bahasa and Pustaka in 1985.
She was president of BAKTI, the Welfare Association of Wives of Ministers, Deputy Ministers and Parliamentary Secretaries from 1981-2003.  With this platform, she was very active in promoting initiatives to educate young people about the dangers of drug abuse.  Her efforts attracted  international recognition and she was invited to speak at high profile  international conferences.
She was Patron and President of numerous  associations and as Patron of the Badminton Association of Malaysia, put in great efforts to promote badminton in the country.  In BAKTI, she created a programme called Tunas Bakti which regularly takes in between 30-50 badminton players from primary schools to train them early  and discover talent.  Also, through BAKTI, there are BAKTI women's badminton groups in all states of Malaysia.  She became so involved with badminton that she would get hot, wholesome meals sent to the national badminton players and officials when they were undergoing intensive training.
She was Chancellor of the Malaysia Multimedia University for 15 years and during this time used to arrange for meet-the-students' session with her husband, Tun Dr. Mahathir  Mohamed under the sponsorship of the Yayasan Kepimpinan Perdana.  These sessions created a very healthy and beneficial relationship with the university students.
For her 21 years of public service, voluntary work and leadership, Tun Dr. Siti Hasmah has been honoured with numerous honours, awards and doctorates – more than any other woman in Malaysia.  On 19 December 2014, the Women's Institute of Management (WIM), of which she is Honorary Life Member, honoured this great lady by naming the "Tun Dr. Siti Hasmah VIP Lounge" in their 6-storey building, Wisma WIM, at Taman Tun Dr. Ismail, Kuala Lumpur.  It was an event of celebration, attended by 150 persons from more than  10 NGOs.  Even the weather was kind and it did not rain, when it  did the day before and the day after. Ms. Tan Tok  Kee from Wanita MCA said, "It was amazing;  the atmosphere throughout the function was so joyful"
Before Tun Dr. Siti officiated the opening ceremony, a Doa Selamat was read by Uztaz Muhammed Zakariyya bin Zainul Abidin, the Assistant Principal of the ITQAN Integrated School.  After Tun Dr. Siti pulled the curtains covering the signboard, the VIP Lounge was opened for her and for all the guests to enter. Features of the VIP Lounge worth mentioning are the wall  placing of a giant portrait of Tun Dr. Siti Hasmah painted by Imuda, 2 rows of family photographs, a lighted ceiling with hand painted bunga raya, a VIP pantry and restroom.
When Tun Dr. Siti Hasmah entered the Auditorium she was welcomed by a thunderous applause from the 150 or so guests and officials of WIM. The programme started with the presentation of the WIM Corporate Video, an Opening Speech by WIM Chairperson, Tan Sri Dato Napsiah Omar, followed by a Citation on Tun Dr. Siti Hasmah by me, as the Organising Committee Chairperson and CEO of WIM.
In her speech, Tan Sri Napsiah took the opportunity to update the audience with some of the most recent  developments in WIM.  She informed  that up till 30.11.2014, WIM had delivered 657 free courses / events benefitting 28,499 participants throughout the country, mostly disadvantaged women's groups.  Secondly WIM's contract with the UNFPA has been extended till 2017.  WIM's Website attracts "hits" from 142 countries, the latest of which  is a small African nation, Bukina Faso, a small  African nation which has attracted world news lately because of the political challenges which it is facing. Finally, with a twinkle in her eye, Tan Sri Napsiah announced that WIM is now "in the blue" which means that the 6-storey Wisma WIM is free of encumbrances and wholly owned by WIM.
The speech from the Minister of Women, Family and Community Development, Y.B. Datuk  Hajjah Rohani Karim, was  a "shot in the arm" wonderful surprise to WIM.  She commended WIM for our achievements in delivering so many free courses for disadvantaged women's group throughout Malaysia, our success in delivering the UK MBA Degree Programme and our achievement in producing  a Business Journal, INSPIRE and several other publications.  She said, "To achieve such a professional standard in WIM is great and marvellous.  What  more do we want?  WIM has shown a very high performing standard in  its teaching techniques, and I should say  is of world class standard".  On WIM's delivery of many skills training programmes for disadvantaged women's groups, she added. "These are good lessons which other women NGOs, which do not receive government  aid, should also follow. This  is what I call "Malaysia Boleh"  and Syabas and Congratulations to WIM for delivering the right quality and qualifications for Malaysian women". She closed her speech with a very surprise and welcomed statement  that her Ministry will be entering into a strategic partnership with WIM.
Following the speeches and citation, came the turn for WIM office-bearers and staff to honour the Guest-of-Honour, by presenting a Mini WIM Concert-all home-grown or all WIM-grown, while Hi-Tea was being served.
The first performance, The "Tarian Poco-Poco" was led by Mrs. Eliza Cherry Chong, Deputy Chairperson of WIM's Advisory Panel. At least ten ladies  spontaneously took to the floor, to accompany her, including Y.B. the Minister herself and YAM Tan Sri  Tunku Dara Naquiah.  This was followed by a classical  Chinese "Lotus" dance by Evanna Phoon, member of the WIM Board of Governors (Education). Then Sharvena Kaur, the Admin and Accounts Assistant of WIM College, performed the "Bhangra" dance. Again, another spontaneous  response when WIM trustee, Puan Sri Siew Yong Gnanalingam and WIM Life Member, Dato Anusha Santhirastipam  joined Sharvena later in the dance.  The final performance was by Miss Josephine Wong Joy Lin performed "Drama Queen" an Egyptian belly dance. Josephine  is a WIM Life Member, who designed the WIM Blog and volunteers for the WIM Education Dept. The Master of Ceremonies, Mr. N. J. Singam, is a WIM Toastmasters Club member.
The highlight of the evening was a Response Violin Performance by the Guest-of-Honour, who is a WIM Honorary Life Member, accompanied by Ms. Winnie Cheah Siew Chin and her pupils. The first 2 performances, "La Paloma" and "The Moon Represents My Heart" received thunderous applause with a call for an encore.  Tun Dr. Siti Hasmah and the other performers obliged with a wellknown P. Ramlee song.  What an evening!  The whole Auditorium was ablaze with the celebrative mood and wonderment! In the closing of the Citation which I presented, I said: " YABhg. Tun Dr. Siti Hasmah bte Mohd Ali, the Women's Institute of Management salutes you today and always.  We wish you, YABhg. Tun Dr. Mahathir Mohamad and your family, Happiness, Good Health and Success for the New Year 2015 and many more years to come".