May 20, 2000 – Queen's Visit to Wisma WIM
Location: Wisma WIM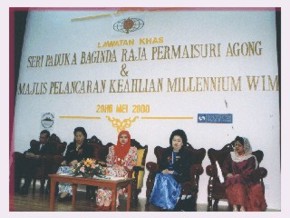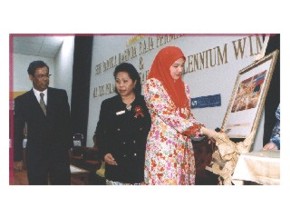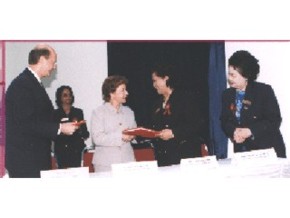 WIM was honoured by the visit of SPB the Queen to Wisma WIM on Saturday, May 20, 2000.
Events for the day included:
 a tree planting ceremony
 dance performances from the Federal Academy of Ballet
 presentation by the Queen of Certificates to Life & Corporate Members of the Business Network
 tour of Wisma WIM
 WIM Partners' Fair, exhibitors include Southern Bank, American Home Insurance, University of East London, Microsoft and University of the Cariboo, Canada
 crafts carnival
 food fair.
The Queen launched the new millennium membership drive and presented certificates to the life members and corporate members. Among those who became life members were Datuk Seri Tunku Puteri Intan Safinaz Tuanku Sultan Abdul Halim, Raja Puan Seri Noora Ashikin Raja Abdullah and singer Siti Nurhaliza.
This event was held in conjunction with WIM's seventh anniversary. Also present were Deputy Minister in the Prime Minister's Department, Datuk Shahrizat Abdul Jalil, WIM board of directors chairperson Dato' Napsiah Omar and organizing chairperson Dato' Dr. Nellie Tan-Wong.
The Queen also launched the joint Southern Bank Berhad and WIM MasterCard.
A MoU was signed at the event between WIM and the University College of the Cariboo (UCC), Canada. The signing of the agreement was witnessed by H.E. Mrs. Jean McCloskey, High Commissioner of Canada.