Product Description
The Business Journal of the Women's Institute of Management
Inspire – The WIM Review – Volume 36 Number 1, April 2018 – July 2018)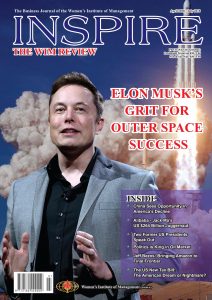 INSIDE:
China Sees Opportunity in America's Decline
Alibaba – Jack Ma's US$264 Billion Juggernaut
Two Former US Presidents Speak Out
Politics is King in Oil Market
Jeff Bezos: Bringing Amazon to Final Frontier
The US New Tax Bill: The American Dream or Nightmare?
RM12 per copy West Malaysia, RM15 per copy East Malaysia, shipping charges depending on your location.
PLEASE NOTE – if you wish to pay by offline credit card, please download this form and submit to us. If you are happy to pay online (by card, online banking or Paypal) or by cheque/direct deposit, just proceed to "Add to Cart".