Product Description
The Business Journal of the Women's Institute of Management
Inspire – The WIM Review – Volume 34, August 2017 – November 2017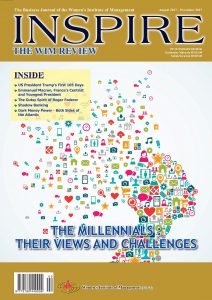 Articles include:
US President Trump's First 105 Days
Emmanuel Macron, France's Centrist and Youngest President
The Gutsy Spirit of Roger Federer
Shadow Banking
Dark Money Power – Goth Sides of the Atlantic
RM12 per copy West Malaysia, RM15 per copy East Malaysia, shipping charges dependent on your location.
PLEASE NOTE – if you wish to pay by offline credit card, please download this form and submit to us. If you are happy to pay online (by card, online banking or Paypal) or by cheque/direct deposit, just proceed to "Add to Cart".